Vietnam With Kids: Planes, Trains and Bicycles
Vietnam: Vital Statistics
Location: SE Asia
Best For: Families, couples, small groups
Star Rating: 4/5 (lost a star due to the issues we had with potable tap water)
When we returned to Canada after living in Singapore for four years, our friends were amazed at the amount of traveling with did with our children. We kept hearing "we were so brave" and "weren't you nervous to go there with your kids?" I can honestly say that South East Asia is one of the best places to travel with children.
The people are so kind, the food is delicious, the beaches are stunning and there are so many incredible activities for families to enjoy. One of our favourite places was Vietnam, it is packed stunning landscapes and has an incredible cuisine.  Have a read of our top stops in this beautiful country: Hanoi, Ninh Binh, and Hoi An.
Hanoi
Our first stop was Hanoi. The capital of Vietnam, it is a beautiful and chaotic city found in the north.
Accomodation
We stayed in La Siesta Hotel in the Old Quarter which is walking distance to all the main sites.  But if you want to save your feet, you can take a cyclo ride for a couple dollars. It was an affordable hotel that included rooms ranging from deluxe triple rooms to premier duplex rooms that have two floors. The hotel was very clean and the staff were helpful. The front desk will organize day tours, as well as taxi rides for you. It also included breakfast, which consisted of local Vietnamese cuisine as well as western style breakfast of eggs, toast and pancakes.  
The Tu linh legend hotel is another hotel in the Old Quarter,  our friends stayed there while in Hanoi.  They really enjoyed it and thought the staff was very friendly and helpful.
Food and Drink
I highly recommend waking up early and have breakfast at a local Pho stall.  Also watch for the pastry sellers carrying their fresh doughnuts over their shoulders, the kids will LOVE them, and so will you (tip: buy your donuts in the morning when they are fresh – at night they're stale).
But if you're in need of a good Aussie breakie, check out the Hanoi Social Club. It's also a good spot for a drink. And with that in mind… Le Pub  offers a wide range of beverages (an extensive menu of eats ) at great location near Hoan Kiem Lake.
We also really enjoyed the Gourmet Corner. It served beautiful and authentic Vietnamese food with an incredible view!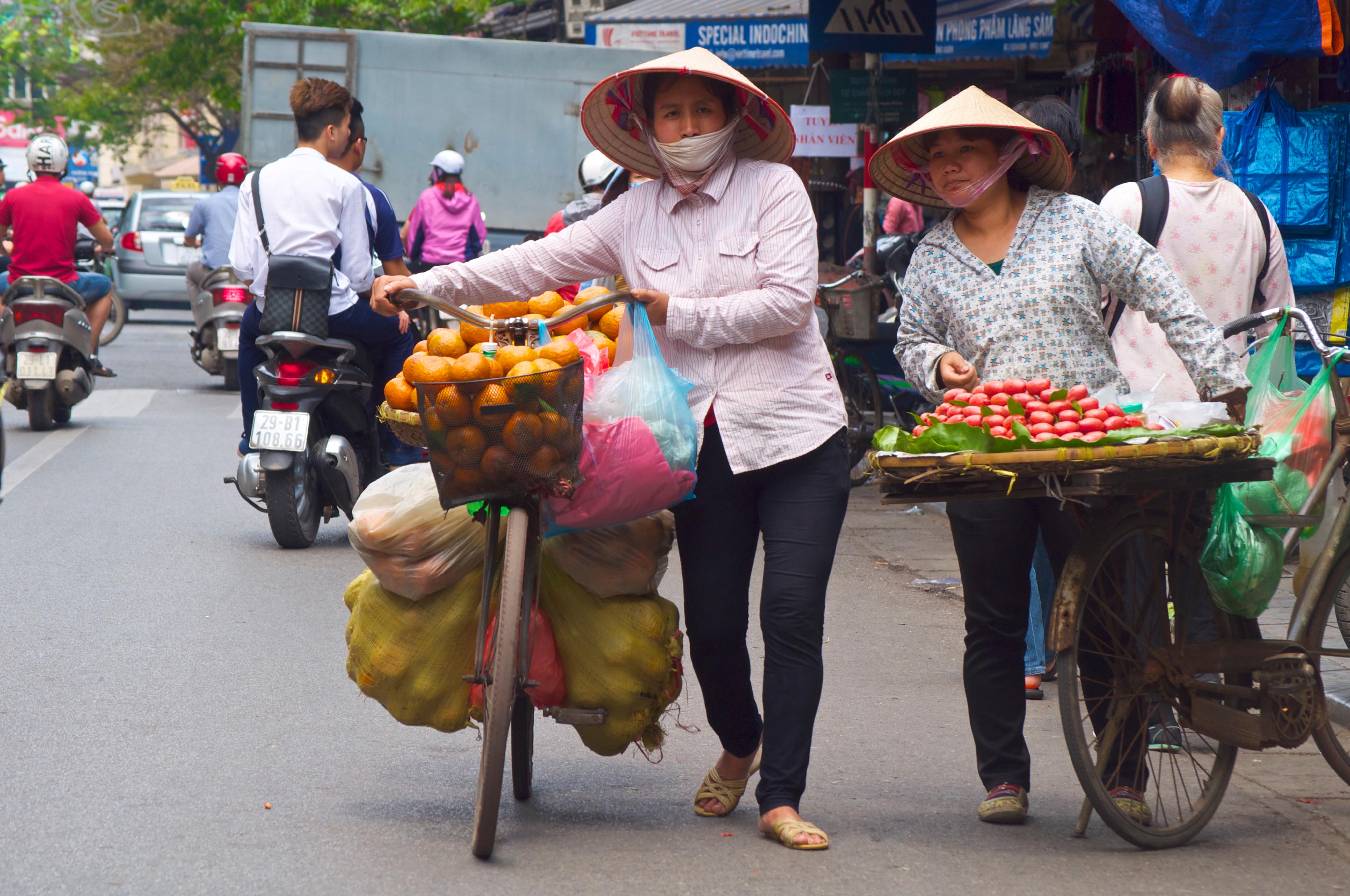 Things to do in Hanoi
Hoan Kiem Lake
The boys loved our cyclo rides around the old town and the walks along Hoan Kiem Lake. It is beautiful and peaceful lake right in the middle of the Old Quarter with a lovely red bridge in the center. There are many cafes and restaurants around so if you feel like a drink or snack along the way there are loads of choices.
Vietnam is famous for their Water Puppet Shows. These shows have been around for 1000 years. The Than Long Water Puppet Theatre is located opposite the Hoan Kiem Lake near the red bridge.  Our performance included stories about everyday life in Vietnam as well as other legends and folklore. There are many shows a day for people to choose from and the tickets range from $4.00 – $8.00 USD.
We spent one of our afternoons at the Museum of Ethnology. It is located outside of the Old Quarter which required a taxi ride, but we loved being able to see another part of the city. The boys really enjoyed the museum as there were quite a few hands on activities for them to learn. The outdoor exhibit was our favourite, there we were able to explore the traditional homes of Vietnamese tribes. The homes were made out of bamboo and wood with most being on stilts. I think the boys with their blond hair and blue eyes were the biggest attraction for the locals who were visiting that day as there were many pictures taken with them as well!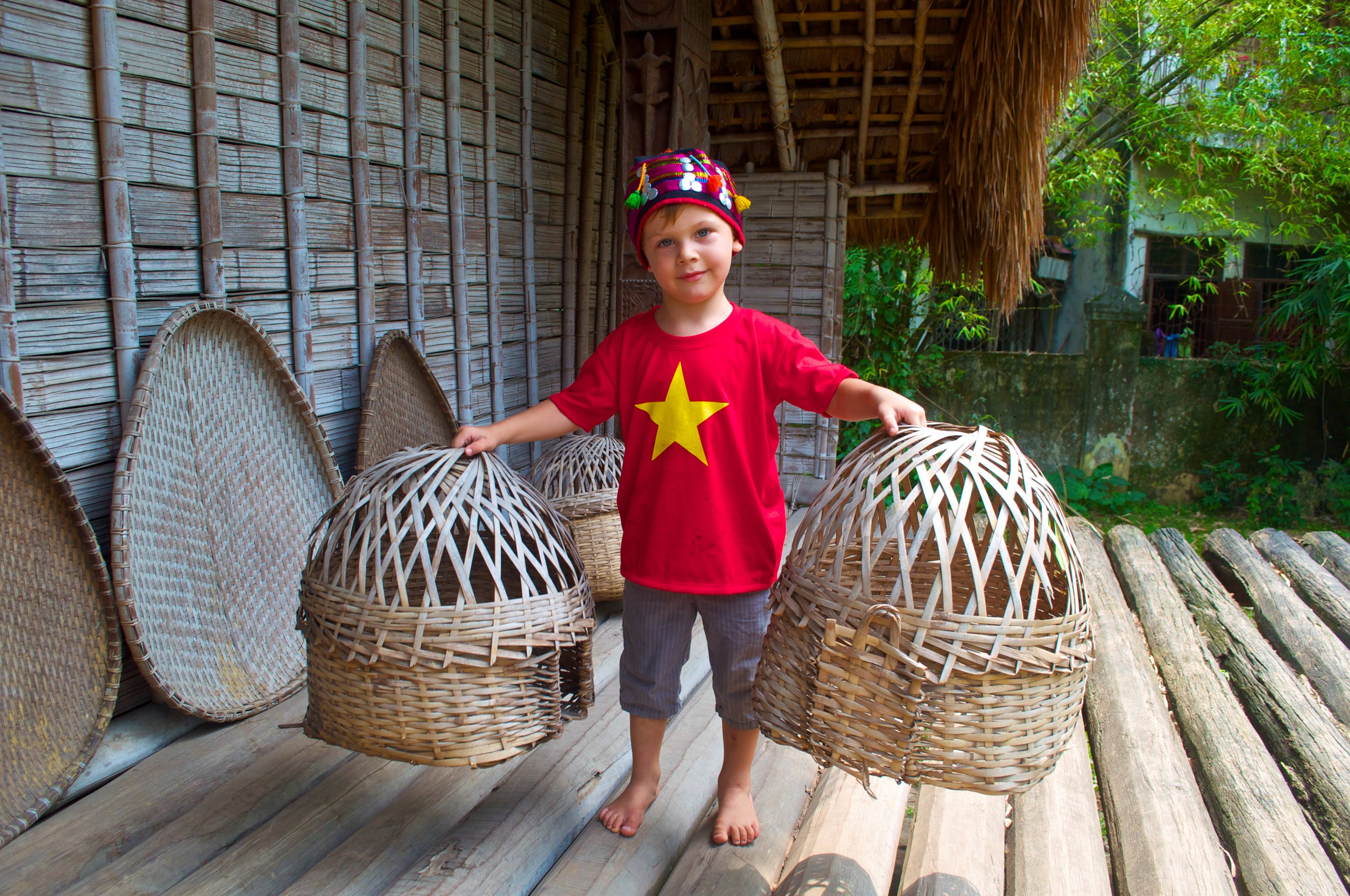 Ninh Binh
After our few days in Hanoi we hopped on the local train and headed south to Ninh Binh, a national park two hours south of Hanoi. Many local Vietnamese people visit this park on the weekend to escape the heat and smog of the big city.
We fell in love the minute we arrived.
Imagine huge limestone cliffs with rice paddies in the center and a river winding through. We found out while we were staying there that we had just missed the cast of the newest King Kong movie as they filmed some of the scenes there… that would have been fun to see!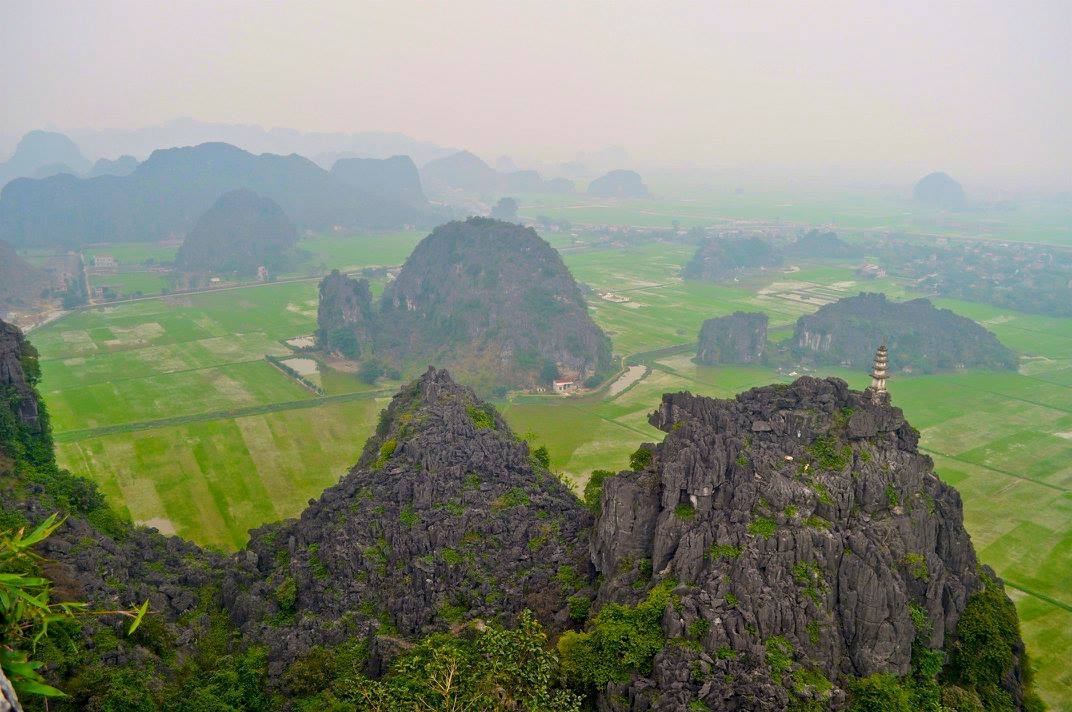 Accomodation
Tam Coc Rice Fields Resort, is exactly how it sounds….right in the middle of the rice fields. They had little bungalows made out of bamboo with thatched roofs and little pond in the middle where the boys could fish. They supplied us with bikes and even contacted their friends to find a baby seat for our youngest to be able to ride with us.
Things to do in Ninh Binh
There many different hikes you can do around the area as well as temple hopping. We were able to ride our bikes to Bich Dong Pagoda and into town where we took a boat ride to Tam Coc, which was a highlight for us. We also did a day tour with a guide where they took us to see  Hoa Lu temples of the Dinh & Le Dynasties. It was a bit touristy but we still enjoyed wandering around. If you want to see a spectacular view of the area and all the rice paddies, the hike up to Hang Mua temple and the 500 steps you need to climb is worth every twinge in your calves!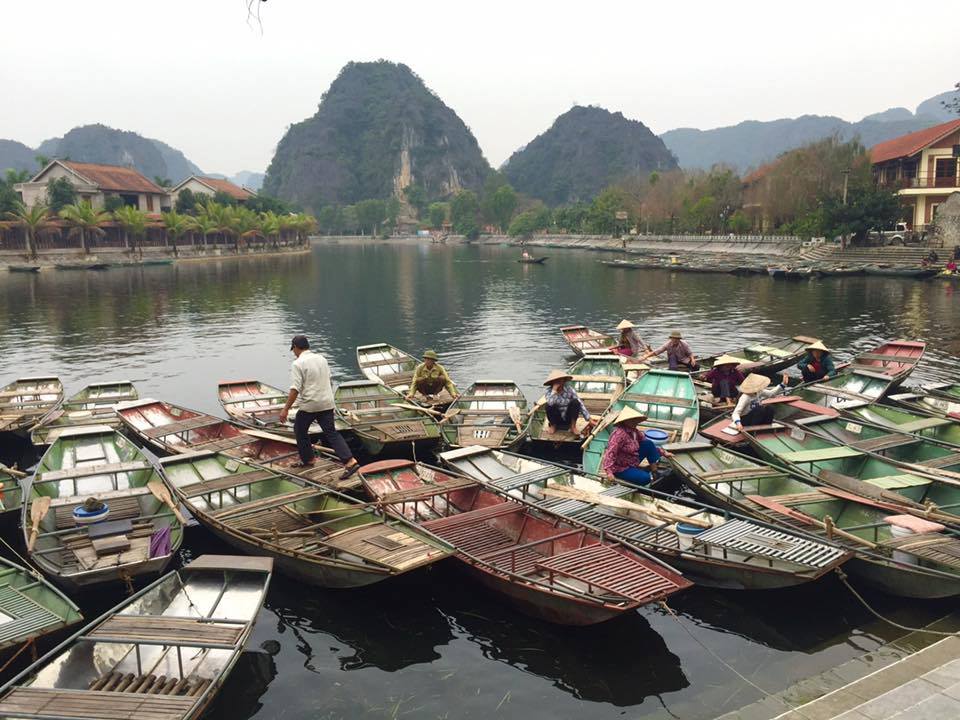 Overnight Train
After our couple days in Ninh Binh we decided to do what the locals do and took an overnight train ride down to Hoi An. We used a website called Seat 61 which was really helpful to book as it was all online. This was such a fun way to travel as we got to see the Vietnamese countryside and was quite comfortable. We had our own cabin which turned into two bunk beds for us to sleep on. There were food trolleys that came around where we could purchase food and the boys were in heaven!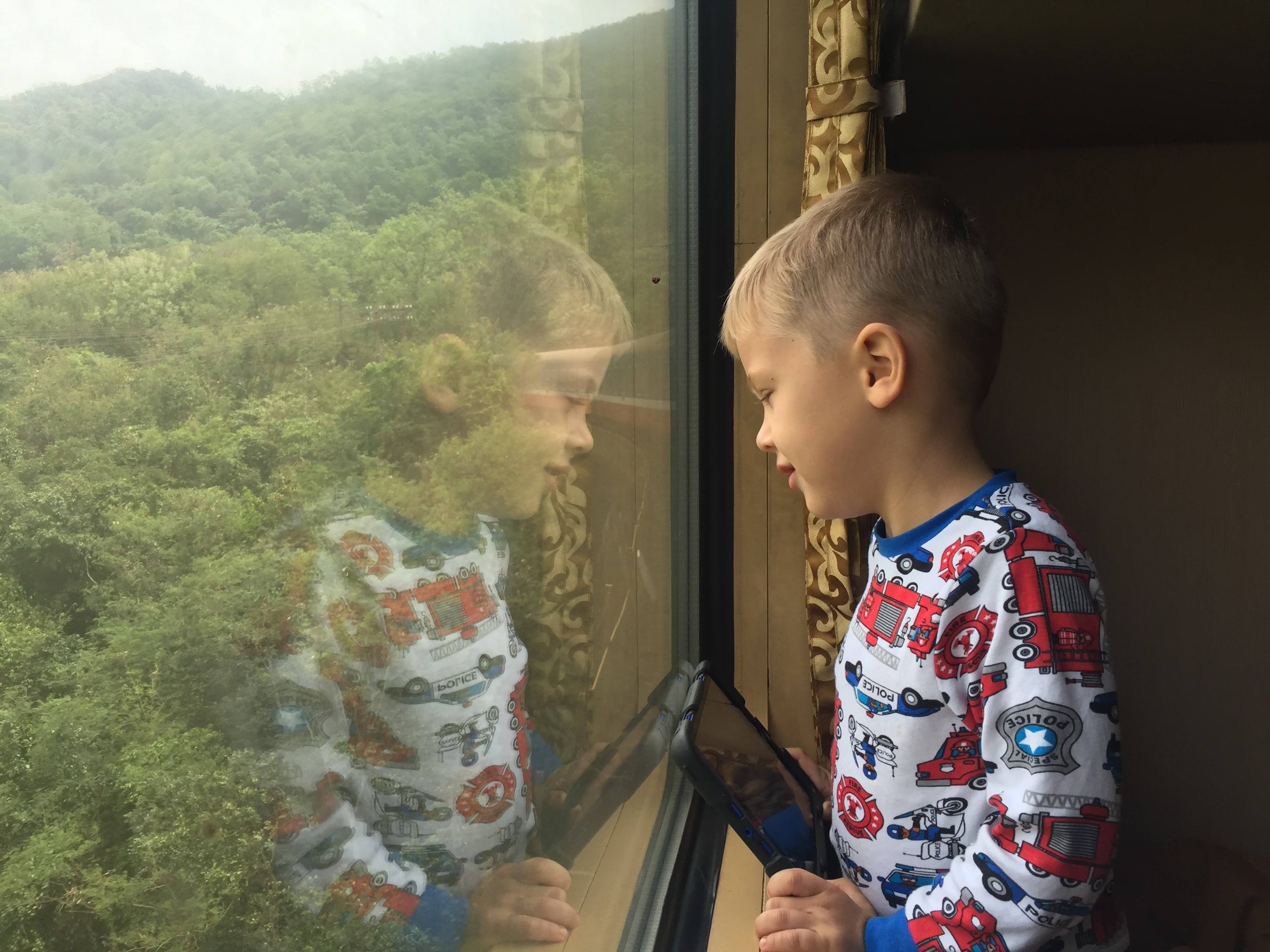 Hoi An
Hoi An is a beautiful town in the center of Vietnam that became a UNESCO World Heritage Site in 1999. We stayed a little ways out of the old town as we wanted to be in between the beach and the town. We enjoyed where we stayed as we spent most of our time in the town but it was nice to be close to the beach for the one day we did go.
Accomodation
Hoi An Salute Hotel and Villa is a charming boutique hotel. They also provided bicycles for us which we used daily. 
Victoria Hotel is not a budget option but highly recommended by friends of ours that stayed there a couple years ago. They also do a great champagne brunch on a Sunday and you can use their facilities.
Things to do in Hoi An
The beach was nice for the kids to play on, quite wide, but the ocean wasn't the best as it was a bit rough for the kids to swim in and not that clean. We spent most of our time in the Old Town wandering around and went to a fantastic tailor that specialised in leather products. Both my husband and I bought leather jackets, boots, and bags for a great price! 
Great Vespa Tours was a really fun way to explore Hoi An and the surrounding area. We also took a day trip with Hoi An Ecotour.  It was brilliant and very family friendly.
Food and Drinks
Little Faifo, this restaurant serves traditional Vietnamese and is quite lovely inside. It gets quite busy, so try and get there early.
Mango Mango was another one of our favourites. Try and sit upstairs near the window so you can people watch all the action that is going on the street below.
Morning Glory was another restaurant that friends of ours suggested, it serves an array of Central Vietnamese street food and traditional dishes. We didn't get a chance to make it, but it is on our list for the next trip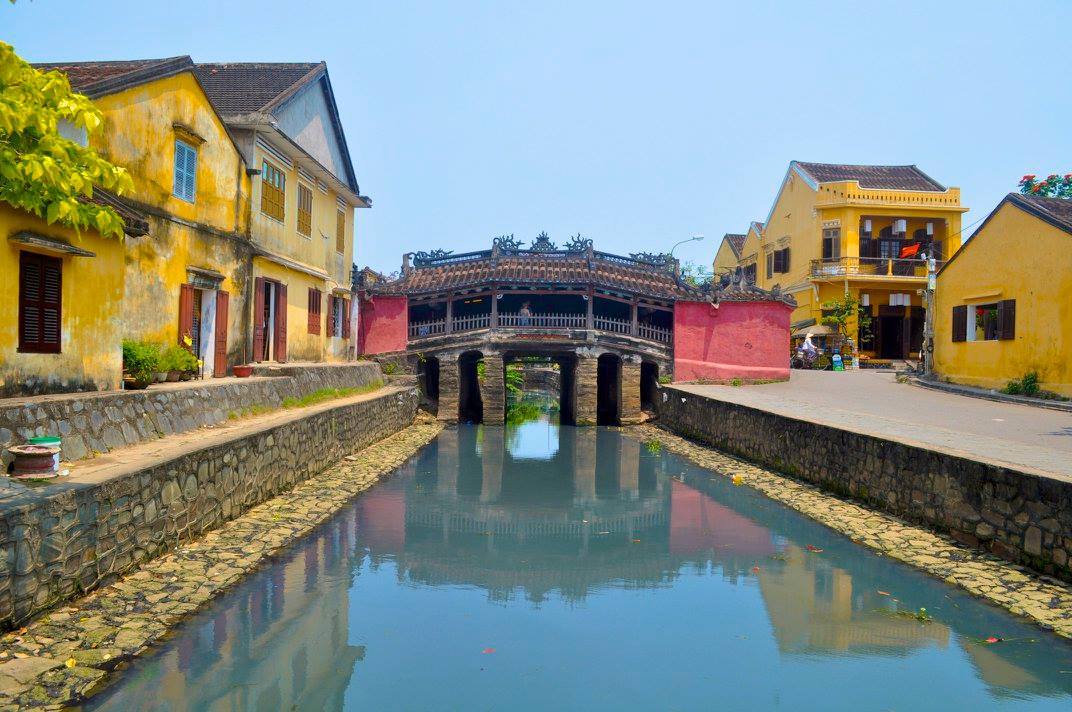 Vietnam is a beautiful country, rich in history and culture that I highly recommend to any family heading to SE Asia. We only just scratched the surface and can't wait to go back to explore again.
Love our vibe?
Learn about becoming a part of our tribe of Mumpreneurs…