Vegan Style Stuffed Mushrooms
These flavour-packed mushrooms can be made on their own for a filling snack, easily combined with a salad for a tasty lunch, or added as a nutritious side dish with your main meal. This recipe can easily be halved, or doubled, and the spice-filled stuffing can be made in advance to save time when it comes time to cook them.
Ingredients:
12 Mushrooms (stems removed): use your favourite (note: button mushrooms are common, however if you want more of a rich flavour and meaty texture, portobello mushrooms provide a great option and have a larger surface to hold the stuffing).
3 tbsp tamari (or soy sauce)
½ cup almonds
½ cup cashews
½ cup walnuts (optional: have fun experimenting with other nuts)
½ cup sesame seeds
1 small onion
1-2 cloves of garlic
2 sticks of celery
1 tsp smoked paprika
1 tsp ground cumin
1 tsp ground coriander
1 1/2 tbspn nutritional yeast
2 tsp rosemary
1 tsp thyme
½ tsp cayenne pepper (optional *hot)
salt & pepper to taste
¼ cup dry red wine (substitute: 2 tbsp red wine vinegar + 60ml water + ½ tbsp vegetable stock)
1 tbsp coconut oil (substitute: preferred oil or water)
Method:
Preheat oven to 200*C
Set aside a baking dish/tray and line with baking paper.
Wash the mushrooms and cut out the stems. Place the caps in a bowl and drizzle with Tamari (or soy sauce), gently tossing to evenly coat each mushroom. Set the mushrooms onto the baking tray (hollow side up) while you prepare the filling. Keep the remaining Tamari.
Over a medium-high heat, toast the nut / seed mixture (almonds, cashews, walnuts, pine nuts, sesame seeds) in a pan for 5 minutes or until slightly golden and fragrant (stir frequently to avoid burning). Set aside.
Finely chop onion, celery & garlic. Set aside.
Add the toasted nuts, smoked paprika, cumin, coriander, nutritional yeast, rosemary, thyme, and black pepper (include cayenne pepper if you want a hot kick) into a food processor and pulse until the nuts are finely chopped (almost like breadcrumbs). Set aside 2-3 tbsp of the mixture to sprinkle on top of the mushrooms at the end before cooking.
Heat the oil over a medium-high heat in a non-stick fry pan and saute the onion / celery / garlic mixture until the onion is translucent and slightly golden (approx 5 minutes). Add the leftover tamari to deglaze the pan; then add the nut / spice mixture to the pan and cook together for 1 minute. Add the red wine (or red wine vinegar alternative) to the pan and stir all the contents well to combine. Saute for another 5 minutes and the mixture should come together to form a thick paste. Season with salt and extra pepper as needed.
Fill each mushroom hollow with the cooked mixture, pressing down with the back of a spoon. Sprinkle some of the uncooked nut / spice mixture over each mushroom.
Bake for between 15-20minutes or until the mushrooms have fully cooked and the topping is golden brown. Remove from the oven and serve warm.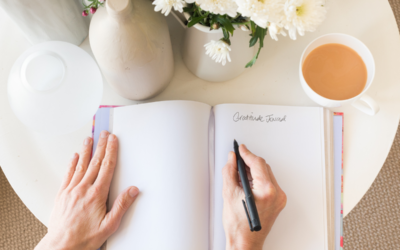 Do you consider yourself someone who looks on the bright side? It's not always easy, but having a positive outlook on life definitely makes life easier. I'm not saying that we should ignore our struggles or pretend that everything is perfect all the time, but having a...
Love our vibe?
Learn about becoming a part of our tribe of Mumpreneurs…