Chocolate Macaroon Breakfast Quinoa
Is it just me or is chocolate for breakfast, as a healthy, lasting option the BEST news you've ever heard?
Now bear with me, I know "breakfast quinoa" does not sound delicious. But let your imagination focus on the chocolate macaroon part, and I promise you will NOT be disappointed.
This is simple, warm, and so satisfyingly chocolatey! The stick to your ribs quinoa, keeps you satisfied all day!
Ingredients:
1 cup quinoa

2 cups coconut milk

3 medjool dates, pitted and chopped

2-3 cranks of pink salt

1/3 cup pure Canadian maple syrup

1 scoop chocolate Complete protein powder

4 tbsp cocoa powder

1/2 tsp pure Mexican vanilla extract
Method:
Add quinoa, chopped dates and coconut milk to a shallow frying pan, mixing well. Bring to a rolling boil.

Turn heat down to medium (possibly to medium low) making sure to maintain a bubbling simmer the whole time. Add 2 or 3 cranks of pink salt. Simmer for 10-15 minutes, taking care not to burn at the end, until all liquid has been absorbed. Remove from heat.

Add vanilla and chocolate Complete powder, then 2 tbsp of maple syrup. Continue adding 1 tbsp of cacao and maple syrup, alternating until you have reached desired taste and consistency. See notes.

Fold in the coconut! Again, there is tons of room for personalization to taste. See notes for ideas.

Top and enjoy!
Notes:
Some like it really rich and chocolatey (more cacao) and some like it sweeter (more syrup). Quantities in this recipe are perfect for ooey gooey, rich chocolate taste that I (and my middle kid) go crazy for!

We use Dutch processed cocoa and Dutch chocolate Complete powder to add an extra nutrition punch!

You could add nuts or seeds, nut butters or chocolate chips, berries, extracts, etc.

I top it with some high quality dark chocolate and extra coconut to really hammer home that macaroon effect. Or with fresh raspberries, SO AMAZING!!! But possibilities are endless: other types of berries, more nuts and seeds, nut butter drizzled, yogurt, tahini etc.

This recipe serves 2 generously. Second portion can keep in the fridge and be reheated the next day or so.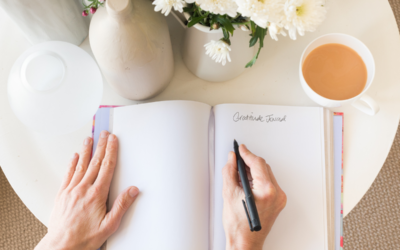 Do you consider yourself someone who looks on the bright side? It's not always easy, but having a positive outlook on life definitely makes life easier. I'm not saying that we should ignore our struggles or pretend that everything is perfect all the time, but having a...
Love our vibe?
Learn about becoming a part of our tribe of Mumpreneurs…