How to stock your pantry for success
Starting a divinely healthy lifestyle is a decision; staying on track is all about what's in your pantry!
So let's get right to it, shall we? Here's how to stock a pantry that creates a totally doable, affordable, and healthy lifestyle for you and your family.
STEP 1: Dump the Junk
The strategy is simple: if it's not in the kitchen, you won't be tempted to eat it!
Start by separating out processed foods and products. Many processed foods are full of trans fats, refined sugars, sodium, and artificial colours and flavours (even those that say 'natural' can be hiding loads of undesirable additives). They're also expensive! Ditching them is a great way to keep your grocery shopping under budget.
The list is extensive, but a snapshot of the types of processed foods to dump includes:
Packaged chips and snacks, including microwave popcorn.

Muesli bars and cereals (check the sugar and salt content).

Prepackaged cakes, muffins, donuts, biscuits, confectionary, and most ice cream.

Frozen dinners and pre-made products like dim sims, chicken nuggets and pizza.

Condiments like traditional peanut butter, highly processed chocolate spreads, and jams laden with sugar.
Just throw them out. Once you start eating the whole food way, you won't want them anyway! And trust me, there are tons of amazing alternatives you can make or buy instead, so you won't be missing out.
STEP 2: Load up on the Goooooood Stuff
STEP 3: Preparation for TemptationBefore you start thinking that your kitchen will be a hollowed-out shell after the big food dump, start getting excited about what you actually can put in there.
You want to focus on stocking your pantry and fridge with whole foods and minimally processed products, of which there are endless amounts of variety and potential for yummy meals.
For example:
Any and all kinds of fruits, vegetables and herbs (fresh and frozen).

Legumes (chickpeas, lentils, black beans, kidney beans, split peas etc).

Eggs, goats cheese, Greek yoghurt or coconut/almond yoghurt.

Clean meats (try to buy meat without hormones or antibiotics).

Nuts and seeds.

Wholegrains (quinoa, brown rice, oats).

Canned/jarred whole foods (tomatoes, olives, sundried tomatoes, chipotle, coconut milk etc).

Dried fruit and nuts (no added sugar or chocolate coatings).

Condiments (mustards, vinegars, dried herbs and spices, clean stock powders, natural peanut butters and jams made from actual fruit).

Baking goods (flour from whole foods like coconut and almond, baking powder and bicarb soda, arrowroot and tapioca flour)

Natural sweeteners (honey, rice malt syrup, pure maple syrup, stevia, blackstrap molasses, and cacao powder).
Plan your meals and snacks for the week so you only buy what you'll use, and get ready to see a rainbow of colour in your fridge and on your benchtops!
Check out our 101 on quick and budget-friendly meal planning here for tips and ideas, too.
STEP 3: Preparation for Temptation
We've lived a long time in 'convenience' mode, so it makes sense to have treats ready to combat those times when you're hangry or just in a hurry.
Healthy snacks can take the form of your favourite nuts, natural peanut or almond butter on rice cakes, vegetable dips and seaweed crackers, bliss balls, homemade popcorn, dried fruit, coconut yoghurt, cacao nibs, fruits for a quick smoothie, frozen healthy homemade muffins or slices, and so on.
You can make your own frozen icy poles or even pop some grapes or blueberries into the freezer for a chilly treat.
TIP: If you have to buy processed foods like chips or muesli bars, keep them in non-transparent containers where you can't spot them, or hide them in a different cupboard.
STEP 4: Load up on Staples
Stockpile canned vegetables, legumes, tomatoes and coconut milk in the pantry, and frozen vegetables and quality meats in the freezer. They're staples for a huge array of quick family-friendly meals like soups, curries, Mexican chilli, and simple meat-and-three-veg.
It's easier to make the choice to eat a quick and healthy meal at home (and avoid fast food) when you know all the ingredients are waiting in your pantry!
STEP 5: Practice Pantry Portion-control
After you bring your shopping home, prep some of your food right away. For example, portion out some of your snacks into small containers (like nuts, or trail mix, or popcorn) that you can grab and go, so you don't overindulge.
Similarly, pre-chop any meats that you want to freeze so they're easy to defrost and cook up. Portion out chicken breasts into freezer bags so you quickly defrost only as many as you need.
You can also stockpile carbonated water for times when soft drink cravings hit. Flavour your drink with combinations of lemon or lime juice, cucumber, ginger, mint, fruit or herbal tea bags. Once you start eating the whole food way, you'll find you have heaps of these on hand to discover some yummy combinations.
It's also a fun idea to buy loads of lemons or limes when they're in season and freeze the juice into ice cube trays, so you always have some on hand to flavour your water or pop into green smoothies.
STEP 6: Enjoy the Rainbow
You've done it! Trust me, you won't miss all those packets once you've tasted what real, wholesome food (with all its beautiful flavours and textures) has to offer up on your plate!
Love our vibe?
Learn about becoming a part of our tribe of Mumpreneurs…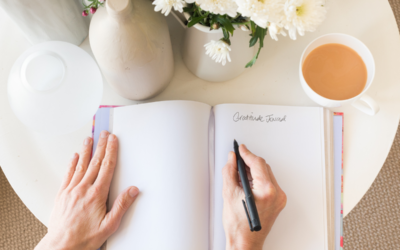 Do you consider yourself someone who looks on the bright side? It's not always easy, but having a positive outlook on life definitely makes life easier. I'm not saying that we should ignore our struggles or pretend that everything is perfect all the time, but having a...
read more